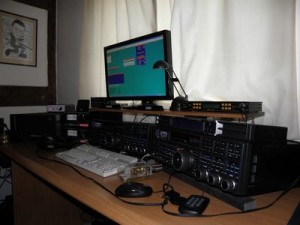 One of the pleasures of amateur radio is chasing radio contacts with far-off countries – some of which may not have resident amateur radio operators. In these cases, they are occasionally put "on the air" for short periods by teams of radio amateurs who undertake a "DXpedition" to the country. Very often these are islands in remote locations and one of the pleasures of amateur radio is travelling to these locations on a DXpedition.
Another pleasure is staying at home chasing those elusive radio contacts with DXpeditions. Either way, there are skills involved in making that much sought-after contact. Knowledge of radio propagation, skill perhaps in Morse code, operating technique and, of course, optimising one's radio station to have a stronger signal – be that through choice of equipment or building better antennas.
Radio amateurs pride themselves on their "DX Century Club" score – the number of countries (or "entities) they have contacted by radio. There are currently 339 possible DXCC entities to contact and a number of radio amateurs have made contact with all of these.
At G3BJ, I have been chasing DX for over fifty years and have confirmed contacts with all the current 340 countries and also a number of former entities (called "deleted" entities). So I now enjoy travelling to rare entities to provide the oportunity for others to make that elusive radio contact. This has taken me to many parts of the world – see the DXpedition menu tab.
DX chasing relies on good propagation conditions. Here's the current state of the inonosphere: