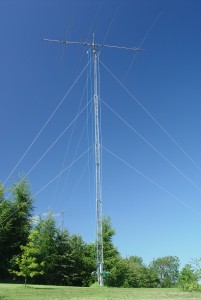 Amateur radio is a scientific and social pastime. The ITU Radio Regulations define Amateur Radio as:
A radiocommunication service for the purpose of self-training, intercommunication and technical investigations carried out by amateurs, that is, by duly authorized persons interested in radio technique solely with a personal aim and without pecuniary interest.
In short, it enables those interested in the technology of radio communication to experiment, communicate and even compete with others who share the interest. Amateur radio has been called "The Greatest of all Scientific Hobbies".
I have been a radio amateur for over fifty years – it's a hobby which fascinates me and has provided much enjoyment and challenge over the years. In these pages, you'll find more about amateur radio and my interests in it.
To become a radio amateur, you need to obtain a licence, which is issued after a period of study and an examination. Entry to the hobby at the Foundation level is straightforward – see the Radio Society of Great Britain website.
Read more in the other pages on this website – use the side bar menu to select.